"Will buying fake followers, likes, retweets, etc. actually help me get more real followers and true engagement?"
After years of helping 1,000's of customers appear more popular on social media we get this question a lot. Our answer has always been – YES. We reference The Bandwagon Effect which states:
"the probability of any individual adopting [something] increases with the proportion who have already done so"
Let's face it – very few people check the authenticity of your social media stats. When someone sees that you have a large active fanbase, they assume you must be worth following. It makes logical sense – but is it true? Now we also have the data to prove it!
We put this theory to the test with a month long social media experiment and the results were pretty spectacular:
Having 25k fake Twitter followers boosted organic growth by 32%
Having 25k fake Twitter followers boosted profile link CTR's by 81%
Buying fake Retweets/Favorites boosted organic RT's by 330% and organic Fav's by 81%
Fake Retweets/Favorites boosted organic click through rates a whopping 787%
Flip through this slideshow to get the skinny on the experiment. A detailed explanation of everything we did can also be found below.
Our Hypothesis
A Twitter account with fake followers and engagement could generate more real followers and engagement than an account without.
The Experiment
We would set up 2 identical accounts. One with fake followers/retweets and the other without. Both accounts would share the exact same content at the exact same time and follow the exact same number of people from the exact same accounts every day. After 30 days, we'd see who had more followers and more engagement.
Setting Up The Accounts
On 3/24/2015 we created 2 identical Twitter accounts for a fictitious (and quite prolific) character we named Chef Jimmy. The only difference between the accounts, is that one had an underscore in the username.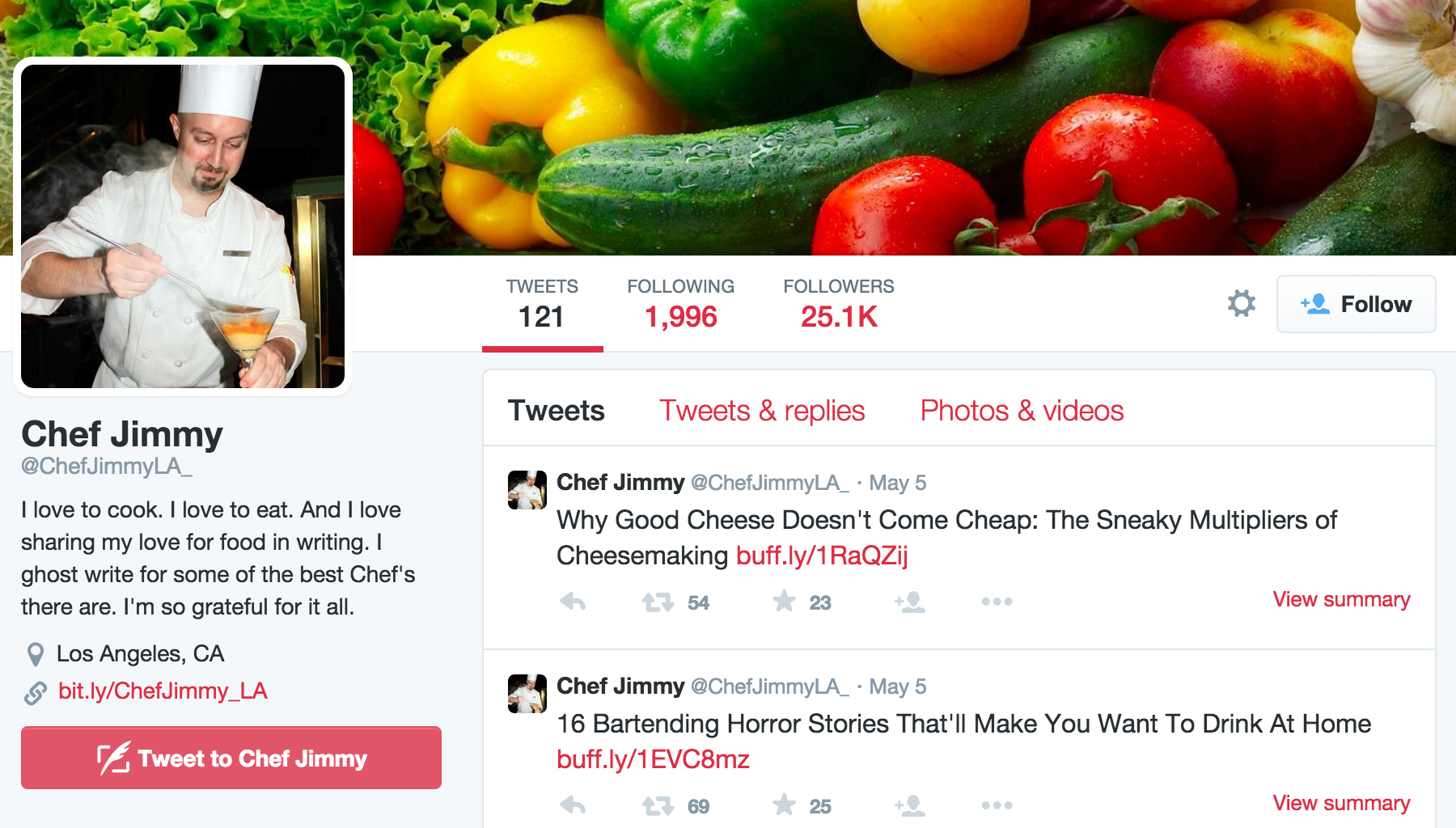 To keep track of the Jimmys' we'll refer to them as "Real" Jimmy (@ChefJimmyLA) and "Fake" Jimmy (@ChefJimmyLA_). You can see Fake Jimmy featured above. We hooked him up with foundation's 25,000 Twitter Followers package as well as our 50-100 Automatic Retweets package which includes Favorites.
Running The Accounts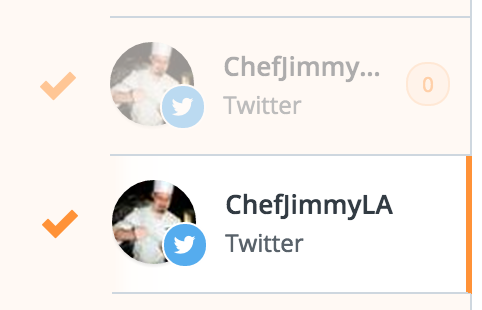 Once the 25k followers were delivered and stabilized (after some drops it landed at 24,342), we started tweeting from the accounts. We used Buffer to ensure that both Jimmy's would tweet the exact same content 4 times per day. We also wanted both accounts to have some content before we started following people.
To create awareness for our accounts, on 4/6/15 we started following people using TweetAdder. Every day for the next 30 days we selected a different popular "Foodie" account like @chow, @epicurious or @bflay and followed 100 of their followers from each Jimmy account.
We filtered and followed accounts using TweetAdder with the following settings to ensure we were following active users:
Hide protected Accounts
Hide profiles using default image
English only
# of tweets = 200+
# following = 200+
After 20 days of following, Real Jimmy hit Twitter's 2,000 following limit and was forced to start unfollowing people. Fake Jimmy didn't hit the limit because he started with thousands more followers. Even still, we unfollowed with him also to keep the accounts in sync.
On 5/5/15 after exactly 30 days of following people we stopped the following and on 5/11/15 we tallied the results.
The Results
The Jimmy with the fake followers, retweets and favorites was the clear winner in every metric we tracked.
| | Real Jimmy | Fake Jimmy |
| --- | --- | --- |
| Starting Followers | 0 | 24,342 |
| Ending Followers | 549 | 25,069 |
| Followers Gained | 549 | 727 |
| Tweet Link Clicks | 291 | 2,582 |
| Retweets | 30 | 129 |
| Favorites | 87 | 158 |
| Profile Visits | 3,583 | 4,159 |
| Bio Link Clicks | 16 | 29 |
Analysis
Followers
Fake Jimmy gained 178 more followers or 32% more. Using Twitter Analytics we could actually see how many Profile Visits each Jimmy received. The number of profile visits divided by the number of followers is essentially your "follower conversion rate".
Divide Profile Visits by New Follower count in Twitter Analytics to get your Profile Conversion Rate
We confirmed our data to be statistically significant and verified that Fake Jimmy converted 14% more visitors into followers. We can state with 99% certainty that having more followers and retweets converts more profile visitors into followers.

Retweets and Favorites
Buffer's data dump for all all 121 tweets from each Jimmy can be found here. We also tracked exactly how many fake RT's and FV's were delivered to calculate the organic difference.
The results were impressive. Fake Retweets/Favorites generated 330% more Organic Retweets and 81% more Organic Favorites!
Tweet Link Clicks
Fake Jimmy's clicks were through the roof! So much so that it seem like an anomaly. The fake accounts definitely don't click links, so we dug into the data. Turns out, the tweets with the most clicks also had some of the most organic Retweets! Organic Retweets means more organic distribution which mean more true clicks. It seems to check out.
Fake Retweets & Favorites contributed to a 787% boost in Click Through Rates
Another interesting takeaway is the tweet with the most organic clicks, Retweets and Favorites was the same on both accounts! This tweet got 325 clicks from Fake Jimmy and 45 clicks from Real Jimmy.
Fake Jimmy

Real Jimmy

Apparently people are hungry for a fresh take on ice cubes.
Bio Link Clicks
Given Fake Jimmy's almost 2x CTR on his profile bio we can also say with 93% certainty that having fake followers and retweets improves profile bio clicks as well. In our case, a 56% improvement.

Conclusion
The data is clear. If you want more real followers and engagement on Twitter, appearing more popular can dramatically improve your results.
Following people still appears to be the best way to drive attention to your profile. Considering each account only followed 3k people, we were surprised by how high both Jimmys' organic follower counts got. Real Jimmy's 549 followers out of 3k is a healthy 18% follow back rate. Not bad.
Generating and curating interesting content and grinding on the follow button is painful and time consuming work. If simple services like ours can boost the likelihood that someone will follow you by as much as 30%, it seems worth giving it a shot.